The epic kitchen renovation will start on July 12 in full stride: We got the first 31 pieces—cupboard doors and drawers—into primer. I toddled into the kitchen 9ish on Saturday and John and I pulled hardware. Kid got pretty good with the drill, I doubt if it cost me ten extra minutes for the hour he worked with me. I went around loosening the screws a turn or two with a screw driver to break the half-century bond with the wood and raise them up to be easier to grab with the screwdriver tip.
John worked away like a Trojan pulling handles and hinge screws from the frames. Then we flipped them over and did the same thing to pull the hinges and magnet plate from the doors. Nine screws per door. By 11:30 the whole pile was outside ready to be washed.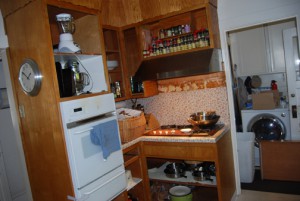 Now I should note that Alexandra saw that look in my eye as I first went into the kitchen and knew the hamster was climbing into his wheel and if she kept the kiddies from underfoot a big chunk of work was going to get done. John couldn't help with the TSP washing, so off he and Nina went with Alexandra to Trader Joes, etc.. He was only interested in the painting, and that wasn't going to happen until Sunday.
It was a beautiful summer day, 75 degrees, a touch of breeze and clear blue skies, so I gets out my iPod, the super-nerd safety goggles that go over the whole eye area, and my old concert hat, now my outside laborer hat (and so it goes!), a pair of latex gloves (okay, Alexandra's latex gloves), staged an insulated cup with no carb no sugar Rockstar on the rainwater diversion barrel and fired up.
I moved the doors and drawers to the driveway in front of the garage so the TSP wouldn't get on the lawn or play area and built a table from my sawhorses and a 2×4 hunk of 3/8 in plywood. By stacking up 5-6 doors at a time, I made a production line of it. Everything got a good scrubbing. Drawers included inside and sides as those will be painted, too. I scrubbed each one liberally with the TSP solution, kept a hose nearby to rinse the sponge often,and propped the finished pieces along the back fence where the sun coming in at the perfect angle to dry them. That took maybe three hours.
At one point the iPod got onto something Alexandra downloaded, Arabic, great beat, nice female singer, rockin' percussion. But man, that song just kept on going. I assume it was the musical version of some epic from middle eastern culture 'cause it was ten minutes if it was a second. I finally dried my hands, pulled out the device and jumped ahead. Got some B-52s and Simple Plan going and renewed the struggle. It was going to be them or me and there was no way I was going to not get those things into primer by Sunday night.
My final act Saturday was to shift the whole shebang back to the yard for a hole patching marathon. By now, the family was home from everything, shopping and swim lessons, and was hanging out in the back yard. I had just finished generating a double handful of sawdust to make patching material when they got home, so it was quiet, safe work for the kids to be around. I went to work with my good old wood handled putty knife, Elmer's wood glue and a popsicle stick shaped to poke the patch deeper into the hole. Nine holes per door but only two per drawer—I was glad to finally get to them.
I patched every crack and went through the test batch patching further flaws and redoing some of the holes. With the latest batch, I'd save all kinds of time by patching first, then sanding. I'd done the opposite with the test batch, so lesson learned, there. That I'll apply in the cabinet patching, too.
So, I patched every hole in sight, and still managed to miss some, which I found the next day.
I spread the patched items around the yard to catch the last hour of sun before it disappeared from the back yard and went in to a delicious dinner of homemade pizza. After dinner I took a few minutes to stack everything under the overhang with patches exposed to dry overnight. Then, into the family.
Sunday I slacked off until 10—I had to as I really didn't want to disturb the neighbors with the sander, but that was the next thing to do. John and I went to Home Depot and bought 50 sheets of 100 grit sandpaper, brought it home and cut it to fit my sander, which I later regretted.
The family was busy in the house, and I got busy outside. I sanded away for an hour or so—Alexandra had taken the kids somewhere—when much to my surprise my 20-year-old Black and Decker orbital sander broke in half. The top half looked the same, but the bottom half, the part that holds the paper on and vibrates, fell off. Alexandra and I had talked about buying a second sander for expediency's sake, so I had eyeballed them at Home Depot and saw no orbital finishing sanders like mine.
However, Pagano's, our ancient, local, multi-storefront, rabbit-warren hardware store had just what I wanted –the updated Black & Decker finishing sander — so half an hour later I was back in business. Nothing is perfect though and there was a fly in the ointment. For my old sander, I trimmed about ¼ inch off the length of the sandpaper; the new sander had been updated to better fit the unaltered length, so I now had about 70 sheets that were barely long enough to work in the new sander—they kept popping loose. Annoying, but not quite enough to give up on them and open the other box of sandpaper. Sigh.
As I sanded, I kept finding holes that I'd missed, maybe 7 pieces in all, so I stacked them off to the side to be patched later. I sanded like a mad dog for hours, it seemed. The neighbors over the fence were having a guy party watching races or some other sport and I felt bad that I was running the sander, but at least it wasn't the Skilsaw or router. Plus, I owe that property (though not those guys) about 500 nights of raucous partying from when we first moved in. Five hundred is a defensible number, too. In any case, what with re-patching and setting up for painting, it was 5 p.m. before we got the brushes going, but John chipped in and made things hum.
I had him start on the sides of the drawers as they weren't important to look at and he could practice smooth strokes. Again, assembly line method, I set them up stacked with the sides all facing him so he could just go along the row painting. He ran through the bunch, 10 drawers, PDQ. I spun them around and he started on the other sides. Meanwhile, I was in a race against time. I really didn't want John to do the cupboard doors as I'd have to redo all his brush strokes on the visible surfaces. I wanted to finish them before he finished the drawers, so kept the pedal down.
When he finished the sides I started him on the faces of the drawers and found that he actually did a pretty credible job. I had given him a poor quality brush, so when I went over his work with my high-quality brush, his stuff was great. Saved me an hour, for sure. Then, just when he finished the drawers, he got tired and went inside. I worked quickly to get three out of six sides on each cupboard door painted and all the drawers finished off. I nailed it at 6:30, ate from 6:30-7 and was outside painting by 7:10, with 400 milligrams of Ibuprofen in me.
I did the last two sides of each cupboard door and started clean up. I was working in the dark in the end, but got everything in the garage and under the overhang. I was bushed so went inside and slumped in a chair for a while. I keep ending up in the kitchen , eyeballing all the bits and pieces that are going to be worked on and wondering what it will all look like.
We had a last minute change of paint as the original choice was starting to look too dark. The electrical and counter guys have to knock out their jobs in order, on time, and we still haven't resolved the tile issue, as Alexandra found out the blue glass tile she chose is considered hard to work with. Well, we'll see.