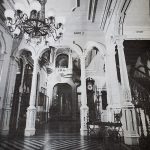 The driveway leading to Ralston Hall is the same that brought wealthy visitors a-vis­iting 125 years ago. The drive is paved now instead of gravel and wrought-iron railings have been added to the front steps in the interest of safety, said Mary Ellen Boyling, curator of the old home.
The home is owned by the Sisters of Notre Dame de Namour, an international order whose local province includes Hawaii and Oregon.
The house has a sweeping front lawn with a few remnants of the lush garden Ralston culti­vated, including a stand of bamboo, some with trunks seven inches thick. Bounding the front lawn is the Eucalyptus-lined old Half Moon Bay Road.
"Those Eucalyptus would have been there, not as high, of course, but William Ralston did have them planted. We even have olive trees up by the elementary school. There are lots of landscape features that are original," Boyling said.
Boyling gestured at the walls, "What you get from here is a wonderful sense of the way Ralston took what was the Cipriani house, and made it his own. Leon Cipriani bought the property in 1853 and he put a small Italian villa on this property, two stories high," she said.
"In 1864, Ralston is very successful and he's a real entrepreneur with respect to San Francisco. He feels this is a wonderful place that's going somewhere. All kinds of guests and visitors are welcomed and he decides he wants to build a country place, his summer home, down here.
"The house was 10 years old when Ralston bought the property, and only 15 acres. Ralston added to the existing house, though at least one local historian believes the Cipriani house was demolished before the present structure was built," Boyling said.
"Ralston had a wonderful architect, a man named John Gaynor. Gaynor was the one who had great ideas," said Boyling.
"When you see the inside, the high ceilings and the openness of the third floor, it's a small hotel; the first floor is not a place where you sit back, put your feet up and read the newspaper of an evening.
Visitors can walk in during the day and look around most of the first floor. Furniture in the home is mostly from the late 1800s and includes a grandfather clock and piano from the Ralston era.
"We have photographs from the 1870s showing that clock. Despite the fact we don't have much that comes from the Ralston period, we do have touches here and there, including a beautiful piano in what we call the Cipriani room," said Boyling.
The house is built in Steamboat Gothic style. Ralston started in steamboats on the Mississippi River and his father was a boat builder. Like the old steamboats, there is an outer wraparound section with a central reception area, said Boyling, who has lived and worked in the house most of her life.
Ralston lost all his money in a bank-crash and was found floating in San Francisco Bay. United States Senator William Sharon, a former partner of Ralston's, took over the home.
Sharon died in 1885 and the house was run as a girls' school, called Radcliff Hall, by Jenny Bull.
"She was educating her own daughters and the daughters of friends," said Boyling. "She had teachers with all the right credentials, so in a sense we had something that anticipated the use the college put it to. Jenny died very suddenly, only three years after opening the school, but her family held on to the property until the turn of the century. At that point a doctor, Alden Monroe, who had worked at Napa State Hospital, was looking for a place to open a private sanitarium."
The property was over 100 acres at this point, so though it was ideal as a school or sanitarium, it was hard to maintain as a private home, she added.
"Monroe and his family moved in and he ran it as a private sanitarium with 20 to 25 patients at any one time. I'd say he had some very advanced ideas about how to treat people humanly," said Boyling.
Patients were often alcoholics or drug addicts, but Monroe treated them like family members and the whole household had meals together. Monroe ran the sanitarium until his death in 1914. His son began looking for a buyer and in 1921 he found one.
"I suppose as early as the end of World War I he was very anxious to sell the property and one of the doctors that had worked for his father knew that the sisters in San Jose were looking for a property," said Boyling.
The sisters had opened their college in San Jose around 1861 and had a charter by 1868. Now the college, the sixth owner, has had the property for 76 years, over half of its life, and several times longer than any other single owner.
Current uses vary. Weddings and receptions are held in the hall. The second floor is mostly administrative offices.
The home has had several names. Ralston called his summer home Belmont, then Radcliff Hall and Gardener Sanitarium. The sisters called it Berkman Hall, and finally it has been registered as Ralston Hall with both he National Register and California Historic Landmark offices.


This article was written by William Cracraft/Freelance News Service and first published in 1998 in the 75th Anniversary Edition tabloid published by Alameda News Paper Group. Any accompanying photos were also taken by William Cracraft. It is reproduced here as a portfolio piece.