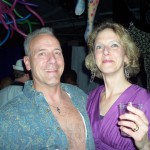 We went to a great birthday party at Velocity Circus in Oakland and a bunch of people got to swing on the trapeze, Alexandra included. I was really impressed as she does not normally do heights well.The Squeeze on a Trapeze at Velocity Circus in Oakland
Here are a few more photos from the party. It was too crazy! I'm sipping my first margarita and all of the sudden a gal in a skin tight suit, white with colorful designs on it, drops down from a ring above my head, and prances off. She is replaced by another gal, similarly attired, who went on for an hour, almost, doing acrobatics with the hoop.
There was also a head table. I get my margi and spot the delacies a few yards away. I belly up grab a handfull of baguette chips and survey the spreads when a fuckin' head, a gal, all made up like a jester, sticking out of the center of the table looks up at me and says, "that's Brie, I don't know what the other cheese is but it is a hard cheese. On this side (the head nods to my right) is a pate and the other thing is something like a pate called a (unintelligible)." By then I had recovered my aplomb and we chatted like old friends while I had dinner.